Excursions Jameos del Agua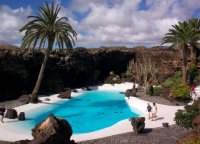 Jameos del Agua is a part of a naturally developed cave, which stretches for a distance of 7 km, from the highest volcano in the north of the island, La Corona ("the Crown"), to the eastern shore of Lanzarote.
Photo gallery Los Jameos del Agua
Into this part of the cave, the architect Cesár Manrique from Lanzarote has built something like a little amusement park.
In addition to a first-class restaurant, there is a swimming pool (which unfortunately one may not use today) that has the architect"s typical design signature, and a concert hall, which is built into the cave and which has excellent acoustics.
In addition, there is a small exhibit where one can learn much that is worth knowing about volcanoes and the origin of the island.
In the lower part of the cave there is a little lake in which blind crayfish live like little white dots on the bottom of the crystal clear water. It is said that this crayfish only lives in Lanzarote and only in this little pool.
Jameos del Agua is open during the day and until late in the evening. In the evening one can be entertained by a group of locals who present folkloristic music and dance. Unfortunately, this part of the presentation is a bit overly touristy, and one wishes that one were back in past times, when the dance floor was used as a small disco with a bar.
And yet it is a very romantic experience to visit Jameos del Agua in the evening and to experience the atmosphere in this unique piece of architecture.
Information Lanzarote: